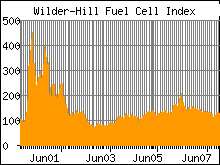 The Need for a Fuel Cell Index

Clean Energy stocks are we believe a fascinating new sector in its own right and one which is here to stay. In the past, this sector was a money-loser and largely ignored by Wall Street. Since Clean Energy technology and thus stocks had failed to deliver on their promise for so many decades, there was some measure of institutionalized contempt for the idea they could make money for investors, or prove a non-correlating asset class that differed from the major markets. Thus when hydrogen and fuel cell stocks for instance really started to show great volatility in 1999 amidst much hype, there was no Index in place to measure or bring attention to that activity at first upwards and then importantly robustly downwards too.
One goal of the Hydrogen Fuel Cell Institute is to calmly reveal the old days are gone. Clean energy firms really can do potentially well, make great products that are practical, and possibly reward their investors with profits. Showing that clean energy works and may produce some sound returns (although past performance is no indication of future results), we accomplish the additional goal of encouraging development of these technologies. As activists for change in the Energy Technology fields, we feel this is a worthwhile goal.